"Blossom is wonderful! It has a stillness to it, yet it moves. It's content, but there are tinges that make you wonder. Soothing and delicate, but steady. So beautiful. So happy to have it in my music library!" Janine K (fan)
"Star Gaze will have your full attention, as it would be hard not to get caught up in the moment. This is the type of song you just want to keep listening to over and over again. It just makes you feel good and puts you in the right mood. Star Gaze is absolutely breathtaking." Erik Anderson (Radio Airplay)
Can I send you 3 of my unreleased piano solo recordings?  Let me know where to send them by filling in the form below. 
Please note that after filling in the form below you will receive an email to confirm your email address and your subscription. Open that email and complete your subscription. You will then receive the email with your music. These emails should reach your main inbox, but just in case they don't, please check your spam. Thanks! Can't wait to send you the three song bundle!
Dan Crisci is a pianist and composer who creates calm and meditative songs, thoughtful sophisticated compositions, and funky energetic grooves. Through an introspective and reflective process, he produces memorable melodies that are enhanced by his ability to improvise. Dan enjoys exploring his compositions as a solo pianist as well as with other musicians. He has performed or recorded with Zach Brock, Steve Holloway, Brynn Stanley, John Carlini, Todd Collins, Ginny Johnston, Anton Denner, Sue Williams, Nick Scheuble, Bill Robinson, Brian Glassman, Rick Crane, Dave Rimelis, and Rob Thomas, among others. He has been the accompanist for the Triad Arts Ensemble Choir for over 20 years and has recorded five albums, three of which feature his original music. In addition, Dan has written songs with music and lyrics and pieces for choir and piano.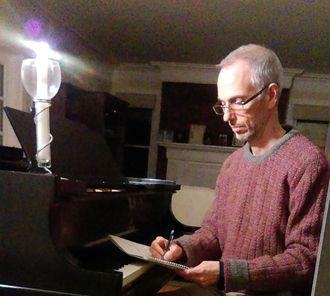 "I wrote Pray Mood in 1993. By then, I had started playing piano for various church services. I always enjoyed playing the music for the quiet times in the service and trying to help create a mood of prayer. I named it Pray Mood for two reasons. First, the title reflected the idea of creating a mood of prayer. Second, it sounded similar to the word prelude, which is sometimes used in titles of compositions. Out of all of my compositions, this one was the favorite of my dear mother in law, Mary Johnston, which also gives the song a special meaning." Dan Crisci