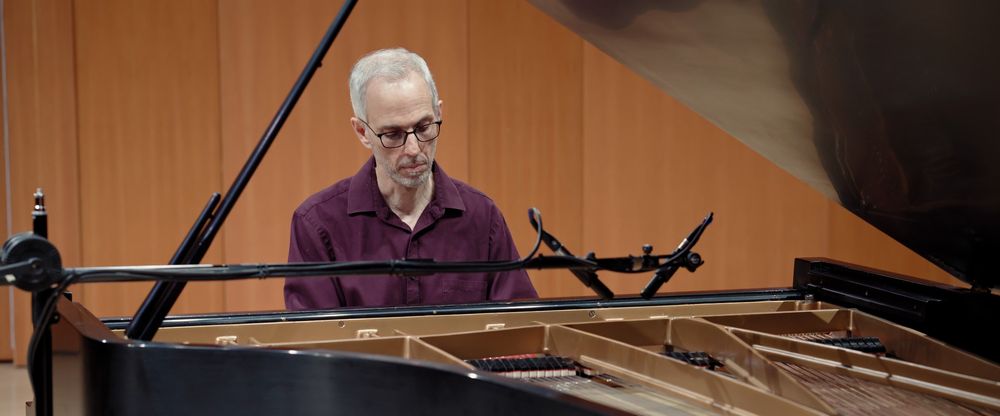 When Dan Crisci won the Frederic Chopin award for piano at Somerville High School in 1979, he was not yet considering playing jazz, composing, teaching piano students, and playing professional gigs. He then started jazz piano lessons with Keith McDonald in 1981 and Jazz Ensemble with Chris White at Montclair State University in 1983, and this was the impetus for him to start playing gigs in 1984 and teaching piano lessons in 1986. More gigs and piano students followed and by the end of the 1980's he was finally a full time musician.  
Throughout the 1990's, Dan hit his creative stride and started composing dozens of pieces. He formed a jazz quartet and started playing in New York City at clubs such as Birdland and The Squire, and in New Jersey at Trumpets, The Old Bay, Marado Blu, and Café Beethoven. The quartet was featured performing at Montclair Unity Church, Summit Central Presbyterian Church, the Tower Center Summer Concert Series in East Brunswick, the Carnegie Center Summer Concert Series in Princeton, and the Metuchen outdoor concert series, among others. They also played many New Year's Eve First Night Celebrations.  
On the teaching side, Dan continued to give piano lessons and also taught at a pre-school music program from 1992-1994. He played regularly at the Common Ground Café in Summit, starting in 1993, often with guitarist Todd Collins, until the café closed in 1997. In 1994 Dan started a long association with the Triad Arts Ensemble, accompanying their production of The Fantasticks. That collaboration continued as Triad embarked upon their Canticles for Life AIDS Benefit Concerts in 1997, with Dan accompanying the choir each year and often featured playing his original jazz music.  
In 1995 Shanghai Jazz Restaurant opened in Madison, NJ, and Dan became a regular performer as a solo pianist and as part of duos, trios, and quartets with musicians such as vocalists Brynn Stanley and Bill Robinson, guitarist John Carlini, and bassist Sue Williams. In 1997 his quartet recorded their first album, Offering, featuring Dan's original music.  
Throughout the 1990's Dan continued to develop his skills through lessons with Dave Braham and Joanne Brackeen. In 1998 he started playing with his trio at Van Gogh's Ear in Union, NJ, and in 1999, Dan and his wife Ginny Johnston became co-ministers of music at the Springfield Emanuel United Methodist Church in Springfield, NJ, holding those positions until 2006.  
Dan continued his musical education from 1997-2000, completing the Certificate Program in Piano Pedagogy at Westminster Choir College in Princeton, NJ.  
In 2003, Dan and vocalist Bill Robinson recorded an album, I Surrender All, that featured Dan's arrangements of hymns and spirituals. In 2004, Dan and his wife Ginny welcomed their first child into the world, a son named Dustin. Two years later came another boy named Nathan. As family life became a priority, Dan still continued to teach and perform. He taught pre-school music with the Music Together program in his home town of Maplewood, NJ from 2008 through 2011.  
In 2009 Dan recorded his third album, Christmas Impressions, a solo piano collection featuring his arrangements of Christmas songs, and in 2010 his quartet performed at the Maplewood Jazzfest.  
In 2012 Dan's group featuring vocalist Bill Robinson performed at the Overlook Foundation Gala event at the New Jersey Performing Arts Center, an event that also featured a performance from Mandy Patinkin and Patti Lapone.  
In 2013 Dan started to perform with vocalist Brynn Stanley, initially at the 2013 Canticles for Life Aids Benefit concert. Other performance venues with Brynn have included Shanghai Jazz, the Watchung Arts Center, the Morristown Performing Arts Center Summer Concert Series, and the Parsippany Library Concert Series, among others.  
Since 2014, Dan has been studying the Taubman approach to piano playing with Sondra Tammam. From 2015-2021, he has presented a workshop at the annual Taubman Piano Festival at Montclair State University on incorporating this approach into jazz piano playing.  
Dan has performed in several events presented by The Discovery Orchestra, including a holiday concert with vocalist Brynn Stanley in 2016.  He also appears in two episodes of their public television series Fall in Love With Music, which aired nationally from 2016 to 2019, and is now available on Amazon Prime. The series will be redistributed on public television again starting in May, 2022.  
In 2018 Dan performed with saxophonist/flutist Anton Denner at Drew University for the 90th Anniversary Concert for the Music Educator's Association.  He was a featured pianist in a February 2019 concert for the Musical Club of Westfield and also accompanied the Dreamcatcher Cabaret in a series of concerts at Libraries and Senior Citizen residences in 2019-2020.  
In 2018, Dan released another recording, Home Again, featuring his own original compositions.  A CD release performance at Shanghai Jazz featured Grammy award winning violinist Zach Brock (Snarky Puppy), woodwind player Anton Denner, bassist Paul Ivory, and drummer Steve Holloway.  A second release party for Home Again took place at the Bridgewater Library, featuring bassist Sue Williams and violinist Dave Rimelis.  
Another original recording, Asked and Answered, followed in 2019, with a CD release performance at Mondo in Summit, featuring guitarist John Carlini, violinist Rob Thomas, bassist Paul Ivory, and drummer Nick Scheuble. The album was honored with a Global Music Award.  
In 2020, with the unexpected onset of the Covid-19 Pandemic, Dan and his wife Ginny Johnston (vocals, drums, clarinet) performed Friday night Homebound Concerts via Dan's Facebook page. These concerts featured original music and covers as well as musical guest appearances from their children, Dustin and Nathan. Dan and Ginny also performed several outdoor concerts in 2020 and 2021, including the Maplewood Village Sunset Music Series in Maplewood, NJ and the Friends of Whittemore Summer Garden Concert Series in Oldwick, NJ.  
Dan currently shares the piano duties for Sunday services at the Ignite United Methodist Church in Kenilworth, NJ, and is a regular substitute at the Butler United Methodist Church. He continues to write music for solo piano, small jazz ensembles, and songs with music and lyrics.